COVID-19 Related Regulations
29 December 2020
Disaster management adjusted regulations – 29 December 2020
In an address on 28 December 2020, President Cyril Ramaphoza further adjusted Level 3 Regulations to combat the second wave of infections flooding the healthcare system in South Africa. Changes, which came into effect at midnight 29 December 2020 include:
Not wearing a mask in a public place is now a criminal offence
The C19 compliance officer role is crucial and the appointed person's details must be posted in a prominent place
Working from home is still a key consideration
All beaches, dams, lakes and rivers are closed in hotspots
All public pools are closed
Gatherings at public parks are not permitted
All social gatherings are prohibited for 2 weeks
General rules for permitted gatherings is 50 people indoors and 100 outdoors subject to the 1,5m distancing
Sale, dispensing and distribution of liquor is prohibited
Use Form 7 for curfew travel related to work in these hours (21h00 to 06h00)
Hotspots extended and aligned with adjusted level 3 regulations.
---
15 December 2020
Amendments of the regulation issued in terms of section 27(2) of the Disaster Management Act – 15 Dec 20
Recognising the need to address the increase in Covid-19 cases ahead of the holiday period, Cyril Ramaphosa called a 'family meeting' to put in place further restrictions. The following key changes (as per the amended Disaster Management Regulations) could potentially impact the healthcare industry.
The curfew listed in regulation 82 is from 22:00 to 04:00, as opposed to the announced curfew from 23:00 to 04:00. Staff performing services during that time must have a permit as per Form 7 in the Regulations (see the template below).
Events hosted by employers or practices must comply with regulation 84 on gatherings.
Initiation practices are prohibited in all provinces but the Eastern Cape (excluding Nelson Mandela Bay).
10 475 KB
---
15 December 2020
Updated Permit to perform essential or permitted service during curfew
The curfew listed in regulation 82 is from 22:00 to 04:00, as opposed to the announced curfew from 23:00 to 04:00 (please ensure that staff have the necessary permits). Staff performing services during that time must have a permit as per Form 7 in the Regulations. Increased enforcement (e.g. roadblocks) during this period is highly likely and so it is encouraged to have all the necessary documents available at all times.
21 MB
---
17 August 2020
ALERT LEVEL 2 REGULATIONS
From midnight tonight, South Africa will move to alert level 2 in our response to the coronavirus pandemic. This will come as a relief to all South Africans who have had to live under stringent restrictions for the last five months.
President Ramaphoza says it is a sign of the progress South Africa is making in reducing new infections and demand on South African health facilities. It is also a very important development in efforts to restart the economy.
Ramaphoza, however, says that it is too early to celebrate and that there is still a chance of resurgence of the disease
As the country moves to alert level 2, many restrictions on social and economic activity have been lifted. With this comes an increased risk of transmission. Ramaphoza warned that the greatest threat to the health of nation right now is complacency.
Level 2 Regulations allow meetings between family and friends, visits to entertainment venues, leisure travel and the consumption of alcohol in licensed establishments (excluding nightclubs).
"But as the old adage goes, just because you can, doesn't mean you should," Ramaphoza added, "Many people who have the coronavirus do not have symptoms and may not even know they are infected. This is a sobering reality because it means that any of us could be infected right now and could unwittingly infect others."
Read the full address here.
1.65 MB
---
13 July 2020
Disaster / Lockdown Regulations as amended 12 July 2020
Disaster / Lockdown Regulations as amended 12 July 2020
1.73 MB
---
13 July 2020
Updated Directions on the handling of COVID-19 Mortal Remains
Updated Directions on the handling of COVID-19 Mortal Remains
1.32 MB
---
30 June 2020
EXCLUSION OF CERTAIN ALCOHOL-BASED HAND-RUBS FROM THE OPERATION OF SPECIFIC PROVISIONS OF THE MEDICINES & RELATED SUBSTANCES ACT
The Minister of Health, as supported by SAHPRA, has published provisions from which Category A medicines in class 13 or 20, consisting of alcohol-based hand rubs use or purporting to be suitable for the use to prevent or treat infection within a health establishment as defines in the National Health Act or other high-risk environments are excluded.
1.19 MB
---
26 June 2020
GAZETTE OF AMENDMENTS OF LEVEL 3 REGULATIONS
The Minister of Cooperative Governance and Traditional Affairs (CoGTA), Nkosazana Dlamini Zuma, designated under section 3 of the Disaster Management Act, 2002 (Act No. 57 of 2002), signed and gazetted an amendment to the regulations for the advanced COVID-19 Alert Level 3 Lockdown.
The regulations are amended and gazetted after the declaration of a national state of disaster, published in Government Gazette No. 43096 of 15 March 2020, and extended by Government Notice No. R. 646 of 5 June 2020, hereby in terms of section 27(2) of the Disaster Management Act, 2002.
The regulations were gazetted by the Minister after consultation with other Cabinet members. The amendments expand the sectors that are permitted under level 3, regulation 33 has been updated to allow movement for the purpose of provision and procuring the services permitted in these regulations. Under these amendments, cinemas, restaurants, theatres and casinos may operate subject to the strict adherence to all health protocols and social distancing measures and following the directions to be issued by the responsible Minister, after consultation with the Minister of Health.
The amendments are issued in line with the President's message that government is implementing the Risk-Adjusted Strategy model in order to balance the overriding objective of saving lives and protecting livelihoods. The Minister urges South Africans to continue to exercise caution and protect themselves and others from avoidable exposure to COVID-19 infection.
4.49 MB
---
26 June 2020
Disaster Management Tax Relief Bill 11 of 2020 introduced 24 June 2020
Disaster Management Tax Relief Bill 11 of 2020 introduced 24 June 2020
219 KB
---
26 June 2020
Disaster Management Tax Relief Administration Bill 12 of 2020 introduced 24 June 2020
Disaster Management Tax Relief Administration Bill 12 of 2020 introduced 24 June 2020
477 KB
---
28 May 2020
ALERT LEVEL 3 REGULATIONS: DETERMINATION OF ALERT LEVELS AND HOTSPOTS
In the President's address, Ramaphosa indicated that South Africa would be moving to level 3 Nationally, but that certain hotspots have been identified. Areas which are hotspots could be adjusted to higher levels of lockdown, subject to specific criteria.
Hotspots include:
Tshwane
Johannesburg
Ekurhuleni
Ethekwini
Nelson Mandela Bay
Buffalo City
Cape Town
West Coast, Overberg and Cape Winelands
Chris Hanie district in the Eastern Cape, and
iLembe District in KwaZulu-Natal
The regulations have been updated with Alert Level 3 in mind. Please note, there are still specific economic exclusions which can be found under table 2. There is also the addition of Form 6 which is for persons intending to travel to and from another province during alert level 3.
6.16 MB
---
22 May 2020
EXCLUSION OF MEDICINES, MEDICAL DEVICES AND IN VITRO DIAGNOSTICS (IVDs) DONATED TO THE STATE FROM THE OPERATION OF CERTAIN PROVISIONS OF THE MEDICINES AND RELATED SUBSTANCES ACT
Dr Zwelini Mkhize, the Minister of Health, has published an exclusion on medicines, medical devices and in-vitro diagnostics donated to the State, or provided to the State as a sample as part of the submission of a bid for a tender published by the State, from provisions of section 18B of the Act: Provided that such donations are made or samples provided in accordance with the guidelines as determined by the Authority and relevant procedures required by the State.
This exemption shall be effective immediately for a period not exceeding three years from the date of signature of this Notice.
859 KB
---
19 May 2020
PERMIT TO TRAVEL TO ANOTHER PROVINCE, METROPOLITAN AREA OR DISTRICT FOR PURPOSES OF RELOCATION
Please see amended form one which is a permit for persons or businesses relocating. This permit and any form of identification must be in the possession of the person to whom this permit is issued.
5.13 MB
---
04 May 2020
New Disaster Management Regulation – "Risk-adjusted Strategy Regulations"
The new Disaster Management Regulation is now referred to as the "Risk-adjusted Strategy Regulations" and ONLY pertains to Level 4.
These are some of the conclusion (although the split between what is in Table 1 "permitted services" and what is in Annexure D "essential services" and when what would apply is not completely clear):
Re-opening or wider opening of permitted services (Table 1) and
What all people can travel/move around for (Reg 16(3)) outside of the curfew, namely for Services listed in Annexure D or for "security or medical emergency" – last night we missed that this only applies to movement from 20:00 to 05:00.
The following actions need to be considered:
1. For all businesses and practices and support entities (e.g. society office staff):
If you re-open or are already open – Table 1
a) ensure you have new Permits for your staff or existing permits that include both the place of work and the place of residence (Reg16(2)(b)). Why the permits must change: #level4lockdown: your permit to travel for work MUST change. If it only says, "essential services", it refers to overnight work only under the new regs. If you'll work during the day it must say "Permitted services" so that it will include Table 1, 05:00- 20:00 work!
b) ensure that you have a Workplace Plan that covers the issues set out in Annexure E & designate a Covid-19 compliance officer – this also applies to small businesses and small practices (Reg 16(6) and Annexure E), all persons must return to work in a phased manner
c)it is not clear if new "essential services" CIPC certificates would be needed in light of services now being described in Table 1as "Permitted Services".
d)pharma and device companies: Follow the new health and safety Directions issued yesterday (GG sent as signed but not yet published yesterday), separate rules will be issued for practices & hospitals
(e) all services that can be rendered by work from home, must be so done (e.g. telehealth, legal/compliance, etc.) – introduction to Table 1.
2. For healthcare practices and hospitals:
(a) Permitted services are listed in Table 1 (Reg 16(2)(d)): "To obtain services that are allowed to operate" from 05:00 to 20:00: "Medical and veterinary services". There are no definitions of what is included in here, and in the absence of the envisaged Health & Safety Guidelines, it is not yet clear how operations should commence complying.
(b) Professional services (Part H.9 of Table 1), e.g. professional societies may only operate only where work from home is not possible and to support level 4 permitted services and trade union staff (Part P.7) only as essential staff for level 4 workers, subject to Directions.
(c) From 20:00 to 05:00 only Essential Services may be rendered, which is, as we pointed out, narrowly defined D (as per the LRA designations that again limits the list) and lists the level 5 list of services as per the previous Regs, namely:
"1. Medical, Health (including Mental Health), Laboratory & Medical Services, NICD",
"9. Care services and social relief of distress … older persons, mentally ill, persons with disabilities, the sick and children",
"24. Transport services for those rendering essential services and goods, transportation of patients",
3. For pharma/device companies:
(a) Importation of goods listed in Annexure B, Reg 22(1), namely:
"6. Medical and hospital supplies, medicine, equipment and PPE (excluding cloth face masks)"
"10. Chemicals, packaging … products used in … production"
(b) Export of goods listed in Annexure C, Reg 22(1)(e):
"2. Manufacturing products … permitted under level 4 table, subject to Directions…"
[we could not find the general export permission referred by my Minister Zuma last night, nor the import and export via bonded warehouse to neighbouring countries, referred to by Min Patel on Saturday etc.]
(c) "C.1. Manufacturing of wholesale and retail goods permitted to be sold … scaling up, except where otherwise indicated…"
(d) Wholesale and Retail: "E.7.Medical and hospital supplies, medicine, equipment and PPE" and the chemicals, packaging, etc, associated with it (E.14.)
6.87 MB
---
24 April 2020
Summary of Alert Levels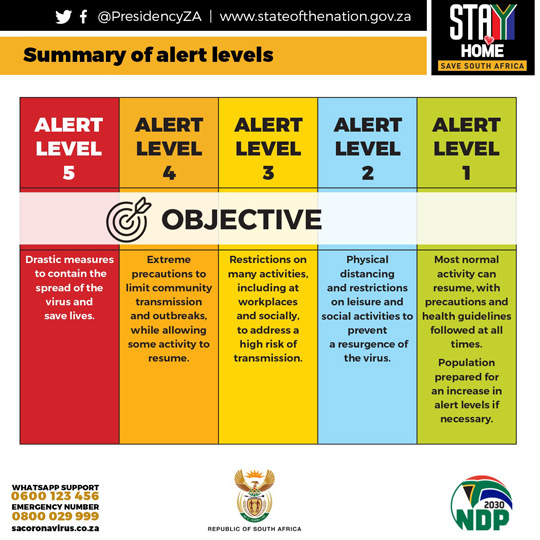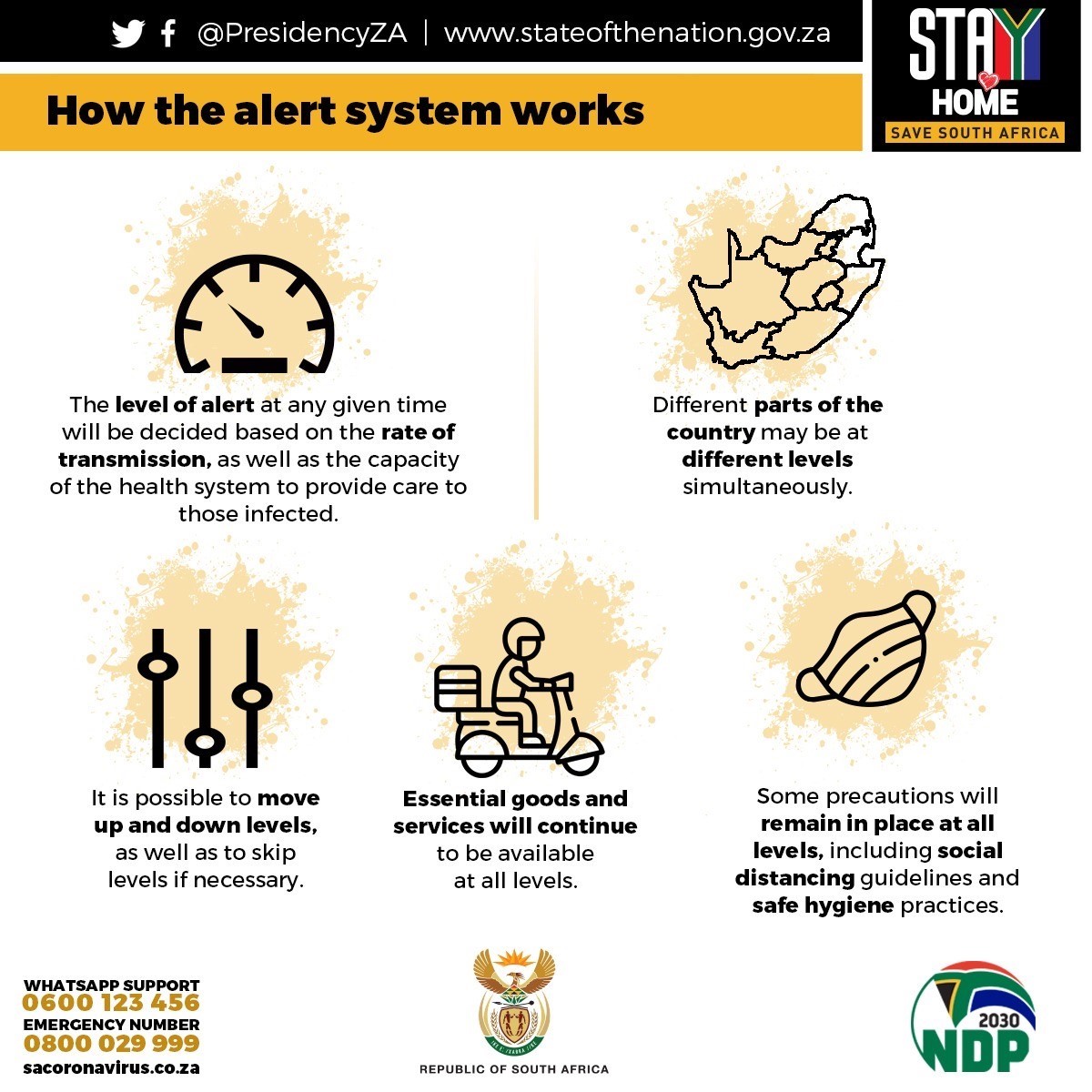 490 KB
---
16 April 2020
The latest amendment to Lockdown Regulations
The Lockdown Regulations have again been amended – the amendments that are of implication for the health sector are as follows:
No visitors allowed in treatment centres etc. operating under social development (reg 7);
For occupational health practitioners, you may be called upon to do fitness to work assessments as part of the partial reopening of energy, petroleum and mining services (reg 11J);
Transportation of essential goods and cargo at ports of entry, and exports to prevent congestion, is permitted (reg 11B((1)(a)(bb));
Hardware products and vehicle components (e.g. for ambulances) can commence, but lists and declarations of buyers are required (reg 11B91)(g) – form 4 must be used);
MoH may designate services as essential by Directive (reg 114A(b)) (NOTE: this opens the possibility to request MoH for such designation, e.g. for services not necessarily life-saving, but important);
No residential evictions, whether in formal or informal settlements, may take place (reg 11CA);
Contraventions are offences that could attract a fine or imprisonment of up to 6 months (reg 11G and 11J);
Health call centres NECESSARY for health are added to the list of essential services, as well as plumbers, electricians and locksmiths (Annexure B, Part B).
3.67 MB
---
09 April 2020
Directions Regarding Call Centres Proving Essential Services
Regulations provide that call centres are necessary to provide health, safety, social support, government and financial services is an essential service. The spread of the COVID-19 virus in call centres is of particular concern. The purpose of these Directions is to clarify the extent and the conditions upon which, call centres may operate during the lockdown.
1.08 MB
---
09 April 2020
COVID-19: Human resources
The Minister of Health has today issued this directive relating to Human Resources:
It shortens recruitment processes to one week, whilst considering the need to verify qualifications, etc.
All health personnel, also in the private sector, must be trained in the management of the pandemic.
Deployment of personnel must be considered, and all personnel must be available for deployment (it is not clear whether this would extend to the private sector).
All retired health personnel, community service, EPW and community-based and NGO's may be requested to fill positions, and authorities must engage these individuals and organisations to render services in identified areas.
Health equipment, sanitation and medical supplies must be "endeavoured" to be sourced and supplied to site.
Waste must be treated ito the National Environmental Health Norms.
All personnel to be trained on PP clothing
Rules on waste disposal and sanitation of quarantine and treatment facilities are set
Rules relating to mortuaries that will accommodate "COVID-19 mortal remains" and disposal of bodies
There is also a rule that any visitors from outside of SA must be reported to the NDoH within 24 hours, i.e. by 9 April 2020.
What is not clear from this set of Directives are the following:
Whether persons from the private sector could be "deployed" (it does not seem so from the Directive)
Whether the state would cover the professional indemnity of the retirees who might be engaged to render services
Whether the supply of inadequate levels of PPE would fall foul of the Directive, as entities must only "endeavour" to source and supply.
6.00 MB
---
08 April 2020
Directions issued in terms of the measure to address, prevent and combat the spread of COVID-19
Some of the notable points from this set of directions include:
This direction encourages the recruitment of additional personal in strategic areas for the purposes of addressing, preventing and combating the spread of COVID -19. It calls to shorten appointment periods and for all health personnel to be trained on COVID -19 for the effective and efficient management of this pandemic including management of mortal remains.
All health authorities should identify where there is a need for deployment of health personnel to respond to this pandemic. All health personnel should be available for deployment to identified sites such as quarantine facilities and any other areas that require health services for rendering these health services.
All health authorities should endeavour to source and provide health equipment, sanitation material and medical supplies to various sites as may be required to respond to the COVID -19 outbreak. Personnel should be trained on the use of the above items including personal protective clothing.
This set of directions also covers the disposal of waste from quarantine areas, the handling of COVID-19 mortal remains and visitors from outside of South Africa.
6.00 MB
---
08 April 2020
REGULATION: Amendment to measure to prevent and combat the spread of COVID-19
A report by a social worker is required to allow admission into treatment centres and Halfway Houses during the lockdown. Restrictions are also placed on children being moved between parents on the authority of a court order or a registered parenting plan, provided that such is available as a certified copy and the child is not moved to a household with COVID-19 persons or suspected COVID-19, infected persons.
182 KB
---
08 April 2020
REGULATION: Expansion of the scope of COVID-19 block exemption for the healthcare sector
The Competition Act exemption now also applies to medical and hygiene supplies (e.g. waste disposal products, sterilisation, prescription and non-prescription medicines, etc.), thereby allowing the actions (not price setting or price agreements) as authorised to each constituency under the initial exemption notice, e.g. to coordinate supply and stock levels.
1.83 MB
---
07 April 2020
Directions issued on the measures to prevent and combat the spread of COVID-19
The Minister of Small Business Development issue the directions in order to provide guidance on the implementation of the provisions of essential goods and services. This is primarily in relation to SMMEs operating grocery stores.
In terms of the lockdown Regulations, all enterprises operating within the borders of the Republic of South Africa are expected to close during the lockdown period except for enterprises which are designated as providers of essential goods and services as per Annexure B to the lockdown Regulations. All enterprises must ensure that the absolute minimum number of staff necessary to safely operate the enterprises are at work during the lockdown period. Furthermore, employers are encouraged to provide transport for their employees during the lockdown period.
All staff must at all times carry a permit to perform essential services contemplated regulation 11(B)(3) of the lockdown Regulations. A stamp or authorised signature on the permit contemplated in regulation 11(B)(3), to perform essential services, is acceptable. All staff must at all times carry photo identification such as an identity document, passport or permit, issued by the Department of Home Affairs.
SMMEs wishing to clarify their status as rendering an essential service or providing essential goods should contact the Department of Small Business Development (DSBD) on 0860 663 7867 for more information or alternatively send their queries to info@dsbd.gov.za
437 KB
---
06 April 2020
REGULATIONS: Tribunal rules for COVID-19 excessive pricing complaint referrals
The purpose of these Regulations is to provide for Competition Tribunal rules regulating complaint referrals for alleged contraventions of execessive price increases during the period of the declaration of a National State of Disaster in respect of COVID -19. These Rules apply to complaints of an alleged contravention of section 8(1)(a) of the Act read with Regulation 4 of the Consumer Protection Regulations. Subject to sub-rule, these Rules shall be of no force or effect when the COVID-19 outbreak is declared to no longer be a national disaster. Unless the Tribunal directs otherwise, these Rules will apply to any complaint referral that has commenced before the COVID -19 outbreak is declared to no longer be a national disaster.
452 KB
---
03 April 2020
National Treasury: Explanatory memorandum for Draft Disaster Management Tax Relief Bill
National Treasury released an explanatory memorandum on the Draft Disaster Management Tax Relief Bill
219 KB
---
02 April 2020
REGULATIONS: Amendments to Lockdown Regulations
There has been yet another update to the Lockdown regulations. The main amendments applicable to the health sector relate to:
essential services in health, and
transportation of health products.
Essential services are services as defined in the LRA as, basically, services in health care that aims to prevent loss of life or limb. This could include chronic care, as is now recognised in the amendments to reg 11B. This does not mean that routine care, such as issuing a repeat-prescription, can or should be done in person. The overarching objective of the regulations, i.e. to restrict movement, must be adhered to. I.e. if care can be rendered without having to see the patient, that must be done. Obligations under OHSA and NHA still exist as well, i.e. to exclude risk where possible.
(a) For the period of lockdown—

(i) every person is confined to his or her place of residence, unless strictly for the purpose of performing an essential service, obtaining an essential good or service, collecting a social grant, pension or seeking emergency, life-saving, or chronic medical attention
The Regs now also authorise the Minister of health to designate services as essential.
The second amendment is important for pharma and devices, and has been a stumbling block for the past week, namely the moving of cargo/shipments:
(iii) movement between provinces and between metropolitan and district areas is prohibited except— … (bb) transportation of cargo from ports of entry to their intended destination, on condition that necessary precautions have been taken to sanitise and disinfect such cargo
Other amendments relate to funerals (and the case law one has seen in that regard), essential banking services, that ports are NOT closed for the movement of goods as designated (which was a problem experienced with, for example, non-COVID medicines being imported for chronic conditions being stopped at ports).
414 KB
---
01 April 2020
REGULATION: Measures to prevent and combat the spread of COVID-19 in public transport services
REGULATION: Measures to prevent and combat the spread of COVID-19 in public transport services
2.16 MB
---
01 April 2020
REGULATION: Public transport limited trading hours approved
Public Transport will be permitted to ferry essential services workers will operate from 05h00 to 10h00 and from 16h00 to 20h00. During the lockdown period, private institutions or companies may make arrangements for the transportation of their workers who are rendering essentials services as listed
in Annexure B of Disaster Management Act 2002, Amendment Regulations issues in terms of Section 27 (2) in line with the operating shifts, work time
schedules. The operating shifts or work schedules or time table should be stamped and signed by such person with authority as contemplated.
1.69 MB
---
01 April 2020
REGULATIONS: Disaster Management Regulations
Regulations have been set out in a Government Gazette with regards to the steps necessary to prevent an escalation of the disaster or to alleviate, contain and minimise the effects of the disaster.
322 KB
---
30 March 2020
REGULATION: COVID -19 Export Control Regulation
Minister of Trade, Industry and Competition published regulations regarding the export of medical goods in light of the national sate of disaster. In the regulation, it states that goods described in Schedules 1, 2, 3 and 4 shall not be exported from South Africa except by virtue of an export permit issued in terms of Section 6 of the said International Trade Administration Act, 2002, and in which export permit such goods are specifically described. The regulation also inserts a schedule 4 and list s description of the good together with relevant tariffs.
219 KB
---
27 March 2020
Guideline for the completion of the permit to perform essential services in terms of the Disaster Management Act.
The published guidelines have been issued in order to assist enterprises to comply with the above Regulations. All enterprises operating within the borders of the Republic of South Africa are expected to be closed during the lockdown period. Only enterprises which produce, provide, distribute, trade or provide critical maintenance services to one or more of the listed goods and services in Annexure B of the Regulations may operate within the borders of the Republic of South Africa during the lockdown period.
Contact details in the event of enterprises wishing to clarify their status as an essential good or service:
Enterprises may contact the Department of Trade, Industry and Competition (DTIC) on lockdownexemptions@thedtic.gov.za
Enterprises may call the DTIC on 0861 843 348 or +27 12 394 9500
17 KB
---
26 March 2020
REGULATION: Disaster Management Act: Lockdown Regulations
Following the Presidential announcement, regulations with regards to the 21 day National Lockdown have been gazetted. The regulations cover the restriction on the movement of persons and goods, the prohibition of public transport, and the resources by the state during the lockdown.
Importantly, it also has four annexures:
A. Order for a person to go to a site of isolation, quarantine facility, or for a person to go for a medical examination.
B. Categorisation of essential goods and services during lockdown
C. Permit to perform essential services
D. Places and premises closed to the public
781 KB
---
24 March 2020
REGULATIONS – Covid 19 block exemption for the healthcare sector 20200319
These Regulations exempt certain agreements or practices solely aimed at responding to the COVID-19 pandemic. In other words, conduct that would ordinarily be caught by the cartel and vertical restrictive practices prohibitions of the Competition Act will now be exempt for the duration of the National State of Disaster. Notably, these Regulations come with the important caveat that any communication or agreement on prices between healthcare companies must be specifically authorised by the Minister.
The Regulations note that the management of the COVID-19 pandemic is not static and the Minister may expand the scope of these Regulations. The Regulations require that parties that take advantage of the Block Exemption keep minutes of meetings held and written records of any agreements struck or practices followed. Notably, even though the Regulations are effective immediately, any person may still make representations regarding the regulations within 14 days from their date of publication.
It is very important to note that where the application of an exemption, e.g. on procurement of supplies by hospitals, take place, no price-setting would be permitted, and that price negotiation to lower costs must take place under auspices of the Minister of Health.
We, therefore, urge members to be extremely cautious when implementing these exceptions and to seek assistance before commencing, with "communication", "coordination", "transfer" or "procurement" in a collective fashion. The exemptions can be summarised as follows :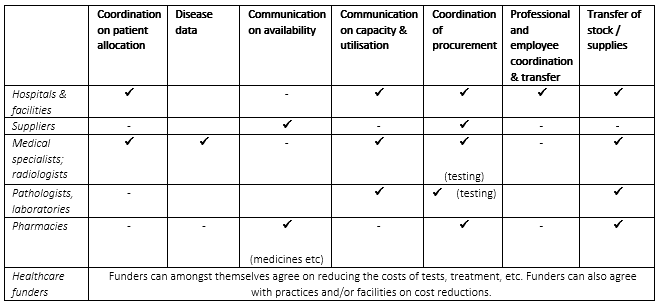 127 KB
---
24 March 2020
REGULATION – Consumer and customer protection and national disaster management regulations and directions 20200319
These Regulations aim to protect consumers from unlawful pricing behaviour in respect of products and services that are critical to effectively responding to the COVID-19 pandemic. These products and services are listed in the annexures. These Regulations put in place two measures to avoid unlawful price increases in respect of goods listed. First, the Regulations introduce the following new considerations that will count towards an assessment of whether a dominant firm has engaged in excessive pricing. Second, the Regulations go on to state that price increases that have either of the abovementioned characteristics will be deemed to be unconscionable, unfair, unreasonable and unjust in terms of the Consumer Protection Act (the "CPA").
Notably, these Regulations provide that the Minister may, in consultation with the Minister of Health, issue directions to set maximum prices on medical goods and services relating to the testing, prevention and treatment of COVID-19 and its associated diseases during the National State of Disaster. Dominant firms which contravene these Regulations must be investigated by the Competition Commission and, if found to be in contravention, will be liable in accordance with the penalties provided for in the Competition Act. The Regulations go on to set in place the general penalties for a contravention of these Regulations, subject to the Competition Act and the CPA.
117 KB
---
24 March 2020
Statement by President Cyril Ramaphosa on Escalation Measures to Combat COVID-19 Epidemic – 23 March 2020 Speech
Statement by President Cyril Ramaphosa on Escalation Measures to Combat COVID-19 Epidemic – 23 March 2020 Speech
137 KB