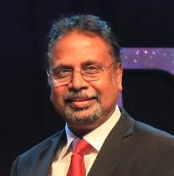 Director eHealth Hospital Services, Gauteng Provincial Department of Health
Dr Rajeev Rao Eashwari is working as Director eHealth Hospital Services at Gauteng Provincial Department of Health from 01 October 2017. Worked in similar capacity in KZNDOH for six years. Before that he managed a regional referral Hospital in Eastern Cape for 12 years.
Dr Rajeev Rao Eashwari is a medical doctor with special interest in using health care information technologies to improve clinical outcomes.  He is passionate about public health, Healthcare IT- eHealth, mHealth, Telemedicine, eLearning, and Health Informatics- Artificial Intelligence, clinical decision support, Hospital information systems, electronic health records, and Population Health management, with an intention to promote Primary Healthcare using Information and communication technologies,
He has extensive (38 years) experience in public and private health sector (12 years in India and 26 years in South Africa) with clear understanding of the health sector in developing countries.
Dr Rajeev Rao Eashwari graduated- M,B.,B,S and post-graduation MD., master's in forensic medicine from Osmania Medical College, Osmania University in Hyderabad Telangana India.
He has a Diploma in Human Resource Management from South Africa. He completed an advanced course in Health Informatics and telemedicine from UKZN. He has been in the eHealth space for the last 15 years.
He has received two National awards from CPSI (Centre for public service Innovation) a division of DPSA (Department of Public service administration in the category "Innovative use of ICTs for Effective Service Delivery"
2013 Winner "teleradiology" using ICTs to improve quality of care", and second runner are up "Innovator of the year for teleradiology".
2014 Winner mHealth project "Using a digital pen by community care givers to collect information from the households" for population health management.
He has also received recognition at the Provincial level.
2014 Special recognition for teleRadiology
2015 Special recognition or mHealth project
2017 MASEA Gold award "eICU" (electronic Intensive care unit)