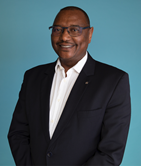 Chief Human Resource Officer, Mediclinic Southern Africa
Greg van Wyk is a law graduate of the University of Johannesburg (formerly RAU), and also holds a Diploma in Education from Edgewood College (formerly Bechet College) in Durban as well as various management and business qualifications. Greg is the Chief Human Resources Officer at Mediclinic Southern Africa having joined the organisation in 2013. He is also the chairman of the organisation's subsidiary MHR.
Greg has a well-established track record in the corporate environment with a career spanning roles in Legal Advisory services, Sales and Marketing, Banking, Consulting and HR. He spent 10 years with the vehicle manufacturer, BMW and this included a stint at the multinational company's head office in Munich, Germany. The bulk of his career at BMW was as Group Human Resources Director serving on the BMW(SA) Board.
He also had an opportunity to play a key role in the realignment of the business model and strategy of the then-ailing Land Bank, the parastatal responsible for financing the agricultural sector. Greg has also served on the Boards of several NGO/ Charity organisations.