SAMED's 2019 conference, held on 30 and 31 July in Midrand, attracted over 160 delegates, most of whom were from Gauteng but a significant number of guests from other regions also attended. While most of the speakers were from South Africa, four had travelled from afar, including Ghana, Europe, Australia and the East Coast of the United States.
Themed "Navigating the changing healthcare landscape", the conference explored policy and other pertinent developments in the areas of NHI, funding for healthcare and medical technologies in the public and private sectors, licensing of establishments and registration of products, ethical business and marketing practices, and transformation. The delegates considered how these factors impact on the South African MedTech industry and how these challenge SAMED members and other role-players to rethink how to better serve the needs of patients and contribute to positive health outcomes.
"We want to thank all presenters, panellists, delegates and sponsors for being part of our conference, helping us learn and share and build relations so we can all navigate the changes happening to our sector," said Tanya Vogt, the executive officer of SAMED.
The post-event survey indicated high levels of satisfaction with the conference: 86% of respondents said that their overall experience rated either excellent or good.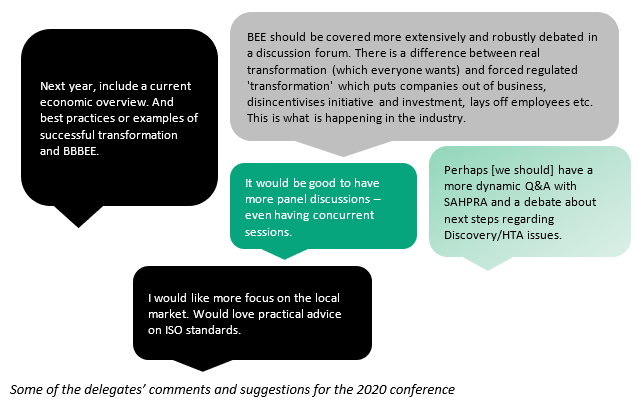 Andrea Julsing Keyter, SAHPRA's deputy director in charge of medical devices, opened the floor with the announcement that the amended regulations for medical devices would soon be published for comment along with product registration fees and that the industry should prepare to submit feedback within the three-month comment period. Further details about the regulatory developments are outlined in the article Licensing of companies and registration of medical devices on track.
Dr Anban Pillay, the deputy director-general at the Health Department shared an illuminating presentation on the National Health Insurance (NHI) Bill. Acknowledging the positive strides SAMED and the members were making on transformation, he invited the industry to continue to constructively engage with the NHI policy and subsequent regulations. Dr Pillay made valuable comments about the strategic purchasing that would happen through the NHI Fund and how it would necessitate an active relationship with suppliers and providers of products and services.
The future is here. So argued Dr David Jankelow, president of the SA Heart Association. His lively talk painted an exciting picture of the impact of digital disruption in the health sphere and the crucial role of innovation in improving patient outcomes. Many medical devices and pieces of equipment are developing at lightning speed as a result of the fourth industrial revolution, enabling new medical concepts, strategies and visions to be implemented faster than ever before. Some of the examples are the use of the Blockchain "hacker-proof" coding system for shared record-keeping, application of robotics, access to medical bid data that computes information about medical conditions at a much faster pace than what a human can do and thereby allowing for more accurate and quicker diagnoses and treatment options. Dr Jankelow said this will help us to improve the overall quality of healthcare, increase patient safety, decrease medical errors and strengthen the interaction between patients and healthcare providers.
The power of partnerships and clustering of efforts within a medical technology innovation eco-system was enthusiastically promoted by Glaudina Loots, director for health innovation at the Department of Science and Technology. Specific points of interest covered by Glaudina included an invitation to medical technology companies and experts to participate in the department's current medical technology innovation landscape analysis and moves to establish a fund to assist local entrepreneurs and SMMEs to start new businesses in the medical technology sector.
The second day kicked off with an informative presentation about the collaborative economic enabler, the Youth Employment Service, by the YES CEO, Tashmia Ismail-Saville. The scheme enables companies to become part of a business coalition, amplifying the impact of job creation and transformation by working as a crowd. YES has created nearly 18 500 new work opportunities, in the process helping employers achieve meaningful transformation while improving their B-BBEE scores.
This session provided a suitable preamble to another talk relating to transformation. Bridget Ntombela from a transformation verification agency explained some amendments to the 2019 Revision of the B-BBEE Codes of Good Practice which come into effect on 1 December 2019. Bridget also conducted an analysis of 86 B-BBEE certificates and affidavits furnished by SAMED members. SAMED will be using the report to guide its transformation efforts.
During the conference, delegates had the opportunity to hear from regulatory experts from other markets.
Michael Flood, previously with the Therapeutic Goods Authority and now an independent government relations professional from Australia, gave insights into global medical device regulations and standards. Regulatory requirements are continually moving with the introduction of new technologies such as 3D printing, digital and connected medical technologies and rapid prototyping. Derma-grafts and artificial pancreas were just some of the examples he provided. In Michael's opinion, ongoing training for regulators and the industry was key to staying on top of these innovations.
Jesús Rueda Rodriguez from MedTech Europe spoke about new regulations in this region and how they have been designed to modernise and strengthen certain critical infrastructure and the system more broadly. One of the critical building blocks is so-called notified bodies (NB), which are organisations that assess medical devices and grant them a CE mark which allows their sale and use in the EU market. The speaker drew attention to the fact that only two NBs are operating at present, one of them being based in the UK and with the uncertainty of Brexit, it was difficult to plan for the loss of expertise and capacity of the one body. Jesús indicated that 20 NBs are expected to be operational by the end of 2019. Other elements of his talk included the establishment of a comprehensive Eudamed database, approach to clinical evaluation, device identification and labelling, the reprocessing of single-use devices and a new risk classification for IVDs.
In this era of cost pressures, restructuring of healthcare delivery and payment modalities, and heightened consumer demand, technology remains an indispensable component of the health service. An international expert in the health technology assessment field, Mary Allison discussed how health technology assessments (HTAs) ensure that the interest of the patient from the need, safety and efficacy aspects of a medical device are central to decisions about their reimbursement. She discussed the social, economic, organisational and ethical issues of various health interventions while making the point that high recovery fees charged by some agencies to conduct HTAs stifled the use of innovative treatments.
The conference also featured the launch of the anonymous tip-off service. Lengtheng Sambane from Deloitte explained the benefits of the whistle-blowing service and how it works. Her presentation was followed by Matthew Wetzel, a Washington-based lawyer who works in the healthcare sector. As a previous employee of AdvaMed (American MedTech Industry Association), he presented the updated AdvaMed code of ethics and specifically what it stipulates about companies' interactions with healthcare professionals.