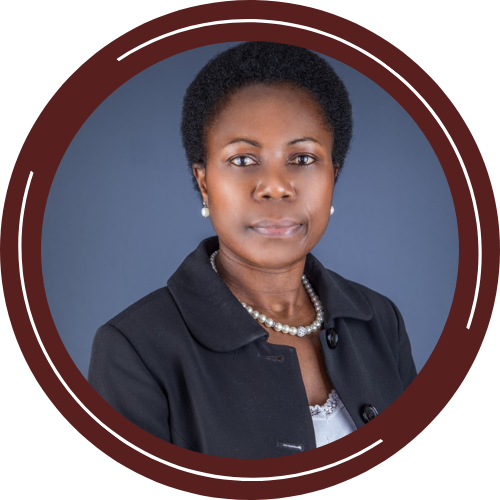 Dr Mashinya obtained a General Diploma (Medical Laboratory Sciences); Specialist Diploma (Bacteriology including Mycology); MSc (Medical Microbiology) and Post Graduate Diploma (Management for Executives) all from the University of Zimbabwe. She went on to obtain her PhD from the University of Limpopo in 2016. Dr Mashinya has also obtained the following qualifications:
Project Management (University of Cape Town)
Strengthening Postgraduate Supervision (Rhodes University)
Higher Education Assessment and Moderation course (Rhodes University)
Postgraduate Diploma in Higher Education and Training (Fort Hare University)
In 2019, she received certification from The British Standards Institute (BSI) for competency as:
ISO 9001:2015 Lead Implementor
ISO 9001:2015 Lead Auditor and
ISO 13485:2016 Lead Auditor.
Dr Mashinya is also knowledgeable about the implementation of ISO 17025 and 15189 Standards.
Dr Mashinya is the founder and Managing director of Institute of Bio Research and Training in Southern Africa (IBRATSA) an Academic Entrepreneurship that opened its doors in July 2019. Prior to founding IBRATSA, Dr Mashinya worked at one of the Universities in South Africa for slightly over 10 years (January 2009 to June 2019). In academia, she held a position of Senior Lecturer and served as a member of the Faculty of Health Sciences Research Committee and University Health and Safety committee. For five years she was a Project Leader for the Dikgale Health and Demographic Surveillance System site (DHDSS) a collaborator in the "Africa Wits-INDEPTH Partnership for Genomic (AWI-Gen) Research project, comprising of six sites from 4 African countries and funded by National Institute of Health, United States".
Dr Mashinya has published 33 peer-reviewed articles in Local and International Journals. She has also presented papers at local and international conferences. Dr Mashinya serves as a reviewer for the African Research Development Fellowships, a funding organisation aimed at Strengthening health research capacity in Africa and the National Research Foundation (NRF) of South Africa. She is also a reviewer of the following journals: South African Medical Journal, PLOS ONE Journal, British Medical Journal, Peer Journal and Current HIV Research journal. Her research output can be found at:
https://scholar.google.com/citations?user=b5O9zPAAAAAJ&hl=en
At the start of her working career, Dr Felistas Mashinya worked in Zimbabwe Government Medical Laboratories for over 5 years, before spending another 5 years in the private sector where she worked in a Food Processing Laboratory starting of as a Microbiologist/ Processing Plant Hygienist, before being promoted to Laboratory Manager/ Quality Manager and later to a Quality Assurance Auditor. The Knowledge and Skills obtained from her breath of experience spanning 20 years in various industries informs the Training courses that are designed and offered at IBRATSA.
Dr Mashinya serves as an evaluator and a member of the SAHPRA Medical Device and Biological Medicines Advisory Committees.