As requested by our members and stakeholders, SAMED created – and in August 2019 – launched an anonymous tip-offs hotline. This initiative is dedicated to advancing ethical business and marketing practices for MedTech companies. The new service is a confidential and meaningful mechanism for members, industry role-players and members of the public to use to log transgressions relating to the medical device code.
Contact the hotline:
Toll-free call | 0800 00 04 68
E-mail | samed@tip-offs.com
Where possible, emails must be accompanied by a completed complaint form (click here to download the Code Complaint Lodging Form).
Independently managed by Deloitte, this service aims to overcome concerns that prevent potential whistle-blowers from reporting unethical practices. Concerns include a fear of losing contracts or employment and damaging valuable relationships.
"Colleagues, clients, patients, health workers or anyone else can now make a complaint that relates to incidents or practices that contravene the Medical Device Code and that involve SAMED members or other signatories to the Code," says Tanya Vogt, the Executive Officer of SAMED.
The multilingual service works 24 hours a day, throughout the year. Managed by trained call-centre staff who use a tailor-made script for calls related to the Medical Device Code, the service allows for three anonymity options:
Completely anonymous: the caller does not disclose any personal information to the call-centre agent. A unique reference number is used for follow-ups and to provide additional information.
Partially anonymous: the caller discloses his/her details to Deloitte only.
Full disclosure: the caller discloses his/her details to be included in the report to SAMED.
The figure below summarises the process: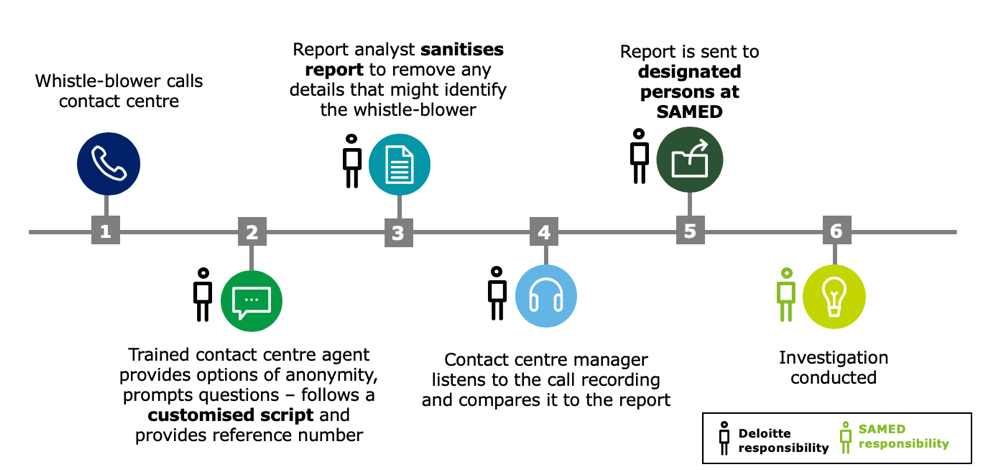 SAMED Whistle Blowing Hotline
Before contacting the hotline, the whistle-blower should read the Medical Device Code and compile as much information as possible about the case, including: physical address, date and time of where the incident happened, names of people, description of the suspected transgression, proof/evidence such as documentation and the contravened clause of the Code.
SAMED will only investigate complaints against a SAMED member or another signatory to the Code. A few other tips to bear in mind:
The hotline call-centre is not a service for other complaints or malicious calls.
Complainants should avoid contacting the hotline from work telephone extensions or email, to avoid being tracked by the company.
Complainants should also refrain from telling anyone in their organisation about the communication they are having with the hotline.
The Code explains the process SAMED will follow for dealing with anonymous whistle-blowing complaints and possible sanctions (see parts 2 and 4 of the Code).
The possible sanctions have been categorised according to the severity of the breach (minor; moderate; serious/severe). In all cases, they require immediate suspension of non-compliant activity and issuing of a corrective notice by the transgressor, as well as a financial sanction that can range between R10 000 and R 300 000.