SAMED welcomes the arrival of the COVID-19 vaccines and the forthcoming commencement of inoculations for our healthcare professionals as the initial phase of the national vaccine programme. As the voice of the medtech industry which is tasked with supplying quality needles, syringes, sharps disposal boxes, PPE, COVID tests and other ancillary products in sufficient quantities, SAMED is participating in public-private consultations and in coordinating the private sector's contribution to the vaccine rollout.
Click here for news media interview with SAMED Chairperson, Avanthi Govender Bester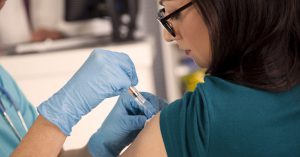 Through Business Unity South Africa (BUSA), SAMED is advising Business for South Africa (B4SA) on the vaccine logistics, cold-chain and distribution workstream, which aims to collaborate with the Ministry of Health on the procurement, distribution and other aspects of medical technology central to the COVID-19 vaccine initiative.
SAMED also helped to provide information on medtech company representatives and employees in order to facilitate their inclusion in the appropriate early phases of the vaccine programme. Thousands of staff from the medtech sector are present in health establishments and many in surgical theatres. In these settings they are at risk of exposure to various biological materials.
SAMED supports members in navigating the changing policy environment and working with stakeholders to strengthen regulatory frameworks for the procurement, approval, testing and quality assurance related to the supply of PPE, diagnostics, breathing aids and other COVID-19 essentials.
SAMED members have been central to the pandemic response by harnessing their local and global networks to ensure supply of medtech equipment. They have also provided professional training and holistic support for frontline staff and other healthcare practitioners, such as those whose work in non-COVID critical and routine health services was disrupted.