COVID-19 highlighted that medtech, along with health practitioners and pharmaceuticals, constitutes the foundation of quality healthcare, both under normal and emergency circumstances. These three features sum up the experiences of the South African medical technology sector during the second year of the pandemic: resilient, adaptable and sustainable. The benefits of being part of a proactive industry association like SAMED are underscored by the impressive growth spurt in our membership – we welcomed 15 new companies as SAMED members this year.
Policies and plans to ensure the industry continues to be resilient, adaptable and sustainable are contained in our new Position Paper on Pandemic Readiness.
Like our other position papers, it is aligned to SAMED's strategy; it was produced by subject matter experts; and has involved consultation with internal and external stakeholders. It is equally relevant to medtech suppliers and to health sector regulators, policymakers, funders and service providers as it strives to enable our industry and other stakeholders to better prepare for future pandemics and other public health crises.
Lessons that the paper explores belong in the following broad areas:
The crucial role played by SAMED as an organised industry association and our need to generate and use reliable data about the sector.
The value of the sector, how to advance ethical practices within it and value-based procurement as the means to provide quality medical technology.
Medtech policy and regulations.
Various challenges to supply chain integrity – starting with effective procurement processes, but also expanding local manufacture and other operational and fiscal considerations.
Factors threatening business sustainability, resilience and the customer interface.
The linkages, interdependencies and strengthening collaboration across the health system in order to maintain patient-centricity especially in times of crises.
In this final 2021 newsletter, we focus on four messages
We must stay resolute in our anti-corruption efforts and activities.
Efficient and harmonised regulatory frameworks and regulations are absolutely vital.
Sustainability means resolving barriers to smooth passage of goods and powering up localisation.
Quality procurement processes deliver quality products and services.
It all starts with the Code
The Medical Device Code for Ethical Marketing and Business Practice is a comprehensive and dynamic self-regulating mechanism for the medtech industry. It is a flagship anti-corruption initiative and SAMED continues to seek government recognition for it so that it can apply not only to our members but to the entire medtech sector.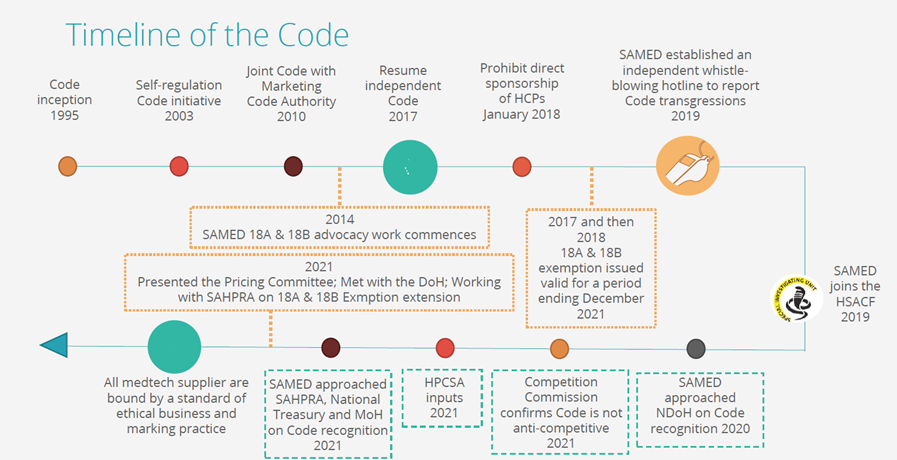 We continually monitor the implementation of the Code so we can test and where necessary strengthen its provisions. Most recently, SAMED has revised the Online Code Certification Test and mandated everyone who had previously been certified to be recertified. SAMED has set a deadline for members to retake the test and for company compliance officers to submit a declaration that the company is compliant for end March 2022. This is an essential step towards securing recognition of the Code which can progress quicker if our members show that self regulation is feasible and we demonstrate the positive impact on the sector.
Healthcare professionals who have previously taken the test will need to retest and will receive two ethics points toward their CPD.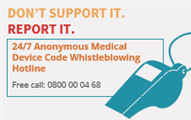 The Code is also the nexus of other anti-corruption activities, notably the independently managed toll-free Medical Device Code whistleblowing hotline which enables anonymous tipoffs regarding the transgressions of the Code. Other inappropriate activities happening in the healthcare space which are unrelated to medtech are also reported to the hotline because the whistleblowers have confidence that SAMED will pass their concerns to the appropriate authority. This is testimony to the progress made by SAMED to establish the association and the Code as meaningful instruments for advancing ethical practices and patient interests.
The adjoining graphic illustrates the cases received and processed by the hotline since its inception in August 2019. A recent case which was investigated was found to be in contradiction of certain advertising clauses in the Code. An ethics panel determined that the company would need to remove the contravening advertising from the market and imposed a fine. The transgressor has since lodged an appeal which will be reviewed by an independent body.

Additionally, SAMED is a Steering Committee member of the Health Sector Anti-Corruption Forum and participates in dialogues and interventions championed by other entities to support anti-corruption activities by government, the private sector and civil society.
Regulations – duty of care for regulators and our sector
As recognised in the SAMED Regulatory Principles Position Paper, regulators and the industry have a duty of care to the health system to ensure a fair and efficient regulatory environment that supports access to innovative and needed technologies by patients.
Regulations

Impact the medtech market
Determine

The access of patients and clinicians to medical technology
The level of investment in R&D in innovative technologies, local manufacturing and the attractiveness of the market
Hence, making the regulatory environment more efficient and purpose-fit has been a major focal point for SAMED. We advocate for good regulatory practice that is locally relevant and suited to medical technologies. Among the key principles that inform our activities in this regard are:
Building a strong partnership between the regulator and industry through – among others – formal engagement platforms, joint training and embracing digital and online solutions.
Support sustainability with a step-wise approach to implementing medical device regulation and by forward planning.
Ensuring harmonisation with adoption of international principles for good regulatory practice that facilitates better regulatory outcomes and respects legitimate interests of manufacturers to protect intellectual property.
The current pandemic has highlighted the urgent need to review, align and improve regulatory processes within and across government agencies before another health emergency occurs.
SAMED advises that robust problem-solving, agility in introducing new policies and regulations and capacity to fast-track licensing are critical to ensure supply of medtech in times of crises. An online application system can make this regulatory pathway more efficient.
SAMED continues to follow up with SAHPRA on a further extension to the exemption of medical devices from 18A and 18B in the Medicines Act as we know this is a critical area for members and stakeholders. We had hoped to have a response by now, however it is with SAHPRA which is engaging with the Pricing Committee to finalise an outcome.
Sustainability of our sector is vital for patients and for economic recovery
The COVID-19 pandemic has been destructive for the majority of companies in the medtech sector, which have had to contend with increased demand for some and decreased demand for other products, disrupted supply chains, import barriers and deferral of elective and non-urgent surgical procedures.
Months later, supply is still hampered due to Port Health continuing to stop imported shipments due to insufficient capacity and a need to better understand medtech products. SAMED continues to engage government and specifically the National Department of Health to address immediate as well as long-term barriers in this regard.
With a view to future pandemics and health emergencies, SAMED makes the case for:
Regulations and policies that balance a crisis health response with providing services to the remaining elements of the health system.
Recognition of the medtech sector as an essential industry and its representatives as an intrinsic part of health service provision.
Better planning for business continuity by medtech companies.
Restoring confidence in international supply chains while boosting local manufacture.
Stronger local manufacture will benefit economic recovery, enhance trade and collaborations between South Africa and rest of Africa and strengthen national and continental health systems.
We are encouraged by the dtic approach to our sector and look forward to further collaboration in programmes coordinated by the Medical Device and Diagnostic Innovation Cluster (MeDDIC) which is hosted by the SA Medical Research Council (SAMRC) and other partners including the Industrial Development Corporation (IDC), Council for Scientific and Industrial Research (CSIR), Department of Science and Innovation, and the Technology Innovation Agency (TIA).
A well-functioning procurement system for a well-functioning health system
An efficient and transparent procurement environment is indispensable to a well-functioning health system and enhances access to the best available technologies. SAMED's recommendations for how we can achieve this are contained in our Procurement Position Paper.
Essentially, our procurement system needs to be ethical, efficient, and effective and to promote competition in the market. It must take account of the unique characteristics of medical technology.
Two elements will help us construct such a system:
Value-based procurement or purchasing: this is largely about broader patient health and societal benefits conferred by a medical device. To achieve value, procuring authorities should focus on spending well, rather than spending less.
Open contracting: these principles will ensure a fair and transparent selection of suppliers and guard against the kind of corruption that we have gotten used to reading about in the media.
That support for open contracting might be gathering momentum can be seen in the dashboard created by National Treasury to provide information on COVID-19 contracts and in six provinces that have begun to publish COVID-related procurement reports.
SAMED is keenly watching these developments and wherever appropriate participating in forums dedicated to this mission.
Tackling youth unemployment
In August, SAMED and the Youth Employment Service (YES) launched a partnership to unlock work opportunities for South African youth.
SAMED is committed to making a difference wherever we can. We encourage all our members to get involved to not only make a truly tangible difference for a young person, but in so doing contribute to building the skills pool in the medtech industry and the healthcare sector.
We are delighted to advise that 29 SAMED members are currently participating in the Youth Employment Service initiative and have created 1 174 youth jobs to date, amounting to a youth salary contribution of more than R66 million. Five SAMED members signed up to YES since the launch, creating a cumulative 169 youth work experiences. That is 169 young people who will gain experience and employment; 169 young people who now have the potential to contribute to the future capacitation of the healthcare sector; and 169 young people who are incredibly grateful for the opportunity to fundamentally reshape their lives and future trajectory.
To provide some context, on average new sign-ups provide around 20 jobs. With just five sign-ups SAMED has managed to create the same number of opportunities as nine sign-ups would have provided. SAMED challenges its members and partners-in-healthcare to seize this opportunity to be part of something great and sign up with YES!
Welcome to SAMED
Despite the hard economic times, SAMED continues to grow and add value to our members. We are extremely excited to have the following new companies join us this year, many of which are small black-owned medtech companies.