Along with the COVID vaccine, ethical behaviour and practices – and on the opposite end of the scale, corruption and fraud – are "trending" topics in South Africa.
As the voice of the South African medical technology industry, SAMED is a leader in the pursuit of ethical marketing and business practices impacting the marketing, procurement and use of medtech.
This mission can only be attained by preventing and resolutely dealing with corrupt or otherwise inappropriate practices which inevitably undermine the quality of healthcare.
It is of interest to our various stakeholders – including the Health Department, SAHPRA, the Health Sector Anti-Corruption Forum, the Pricing Committee, Parliament, the Council for Medical Schemes and private health sector funders and operators, as well as professional bodies – to learn how the Medical Device Code for Ethical Marketing and Business Practice in combination with other activities enables SAMED to advance patient care through medtech. We do not believe that it is possible to have a successful and sustainable business unless it is predicated on patient-centric principles and medical and ethical best-practices.
The Code is a comprehensive and dynamic self-regulating instrument for the medtech industry. It is a flagship SAMED initiative whose provisions are continually tested and where necessary strengthened.
We are confident that, in light of a stream of allegations and cases relating to corruption in the health sector, now is the right moment to engage government on one of our key strategic goals – to  obtain government's recognition of the Code. This crucial but missing measure would ensure that the Code becomes enforceable and applicable across the medtech sector and not only for SAMED member companies, which would in turn bring several hundred medtech suppliers (and by extension, their customers) into a self-regulated and accountable environment.
In response to concerns that the Code may be somewhat over-prescriptive of trading practices, SAMED approached the Competition Commission for an opinion on compliance with the Competition Act . The Commission consulted the Health Professions' Council of South Africa (HPCSA) and SAMED was advised that the Code's strict requirements in respect of Code signatories' interaction with healthcare professionals are necessary, given the nature of the decision-making process by healthcare providers and its impact on patient care. The Commission also indicated that the implementation of the Code is not found wanting in any aspect of price-fixing or market allocation. Instead, even if it does impact on competition in the relevant markets, this is justifiable in view of the need to maintain ethical standards in the industry. This is a very pleasing result of our productive engagement with the Commission.
SAMED regularly hosts member and stakeholder forums to promote the Code and to train members, other medtech suppliers and representatives of the health profession on its implementation. Significantly, the Code applies to marketers and suppliers of medtech and not to healthcare practitioners who fall under the jurisdiction of their own oversight and accreditation bodies – such as the Health Professions Council of South Africa (HPCSA). Sometimes, as is the case with the industry's sponsorship of third-party organised educational events for healthcare professionals, SAMED engages with their representative structures to consult and resolve challenges.
The Code enhances an expanding package of other SAMED interventions that seek to eradicate corruption and improve governance. An increasing number of external organisations are recognising the value of these efforts and are partnering with SAMED to improve compliance.
The implementation and promotion of our Whistleblowing Hotline is independently managed by Deloitte. As noted by diverse authorities on ethics as well as a growing body of evidence, whistleblowing is recognised as the most effective measure to guard against fraudulent or unethical activity within organisations. SAMED is proud to have the mandate and support of its members to ensure that our industry is equipped with such a mechanism.
The handling of complaints relating to possible transgressions of the Code is led by a senior legal partner acting as an independent chair whose powers include allocation of valid complaints for review to independent investigators and/or an ethics panel and adjudication of cases and allocation of possible penalties based on advice from these expert third parties and evidence that proves that the Code has been transgressed.
SAMED is one of the initial members and a committed partner of the Health Sector Anti-Corruption Forum, established by President Cyril Ramaphosa in late 2019. We call on role players across the health system to join and participate in the Forum's work.
Employees from medtech and other medical supplier companies as well as healthcare professionals obtain the Code Certification Test (which is CPD-accredited). Currently, 3 547 medical technology industry representatives and 910 healthcare practitioners are certified.
The CRICE initiative (Company Representatives in the Clinical Environment), launched jointly by SAMED and Masoom Training Solutions in 2011, continues to evolve and grow. The three largest hospital groups and an increasing number of healthcare facilities embrace CRICE accreditation as one of the criteria for allowing medical representatives access to their institutions. The mobile app launched in 2020 has assisted health establishments with more effective digital access control. Currently 5 244 company representatives have digital cards, and 495 supplier companies are part of the programme.
In addition, SAMED produces and makes available different materials to help medtech companies and their customers, as well as all other stakeholders and even patients and the public understand and respect good governance and hold our industry accountable.
Materials to promote the Code and Whistleblowing Hotline
Guidance documents on various aspects of the Code
A new step-by-step video explaining how to lodge a complaint against a medtech supplier that may have contravened the Code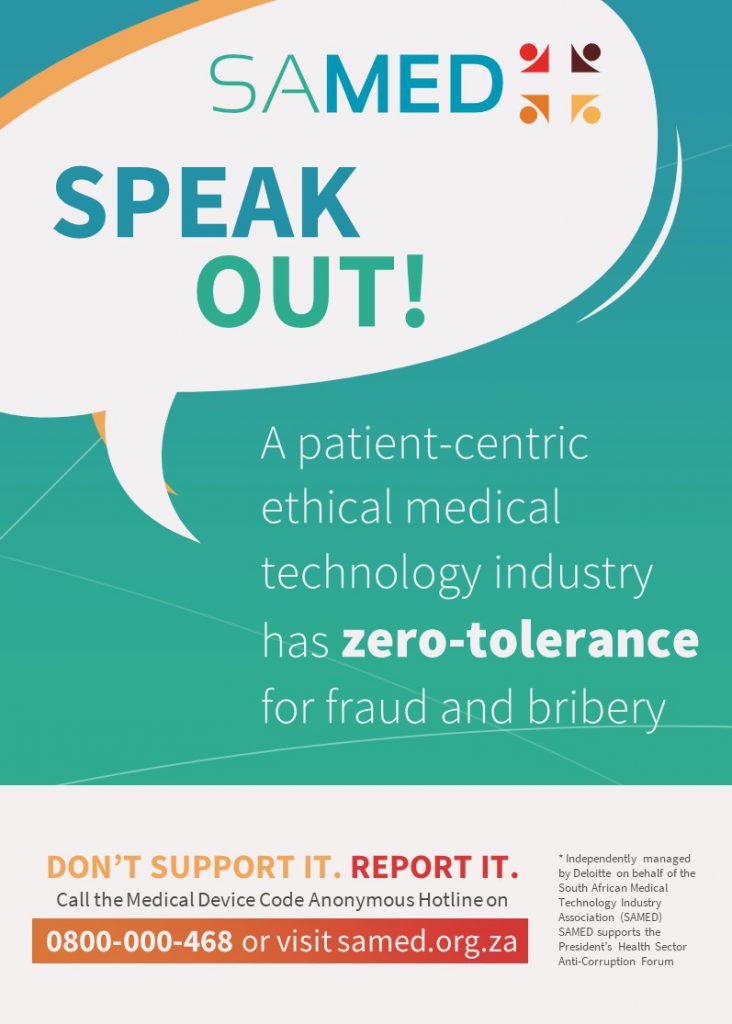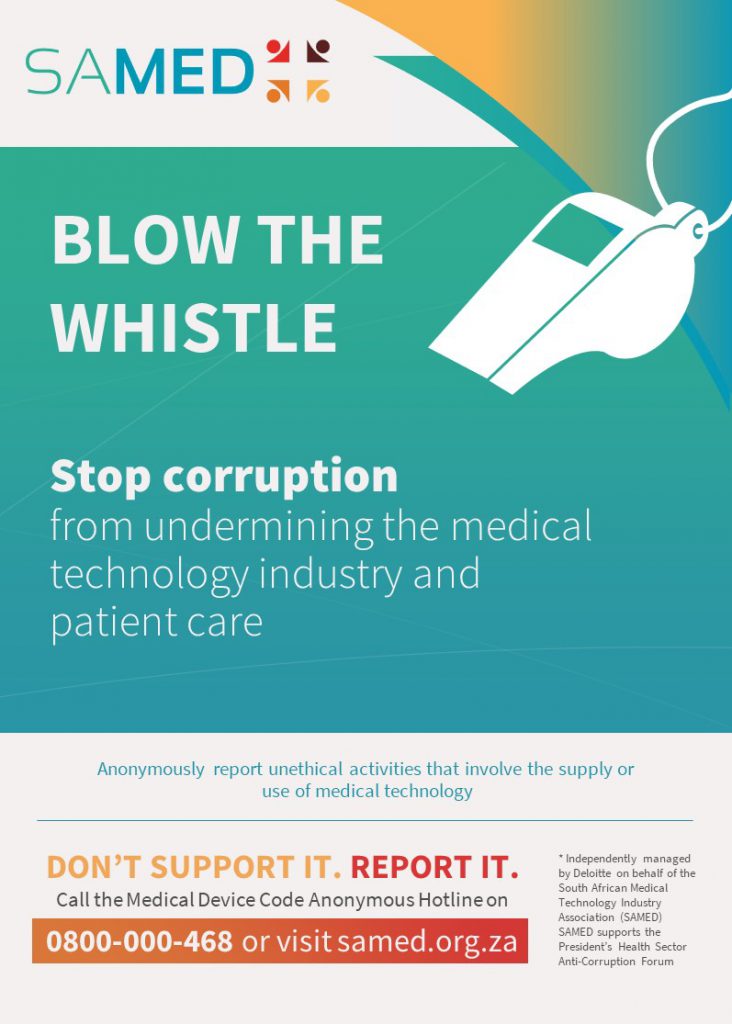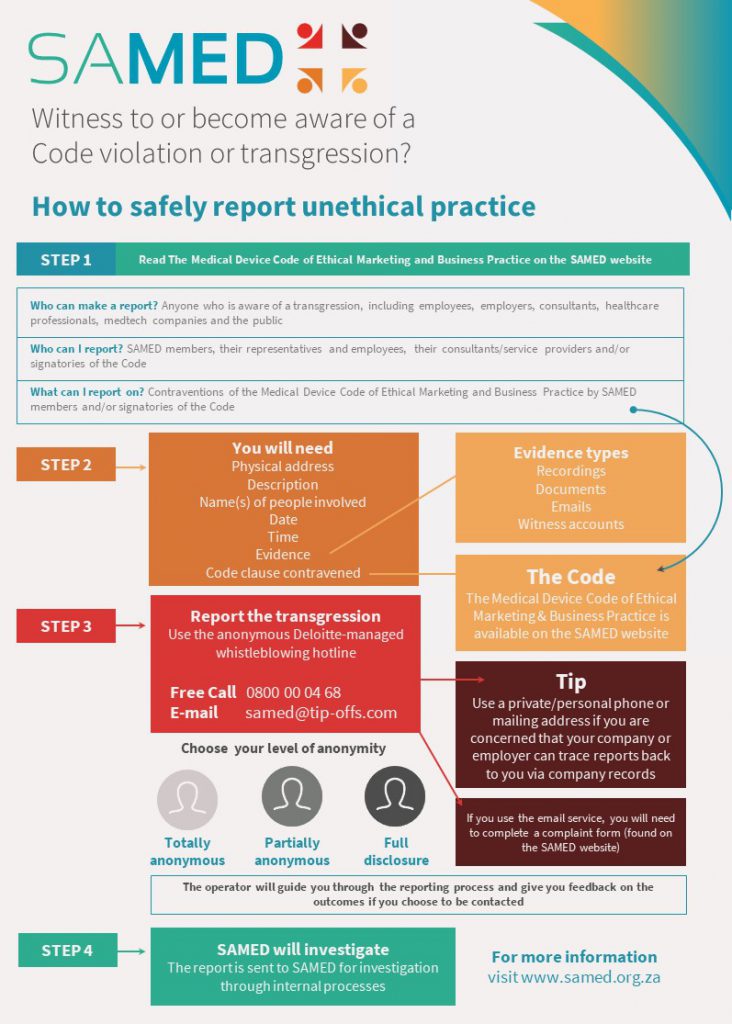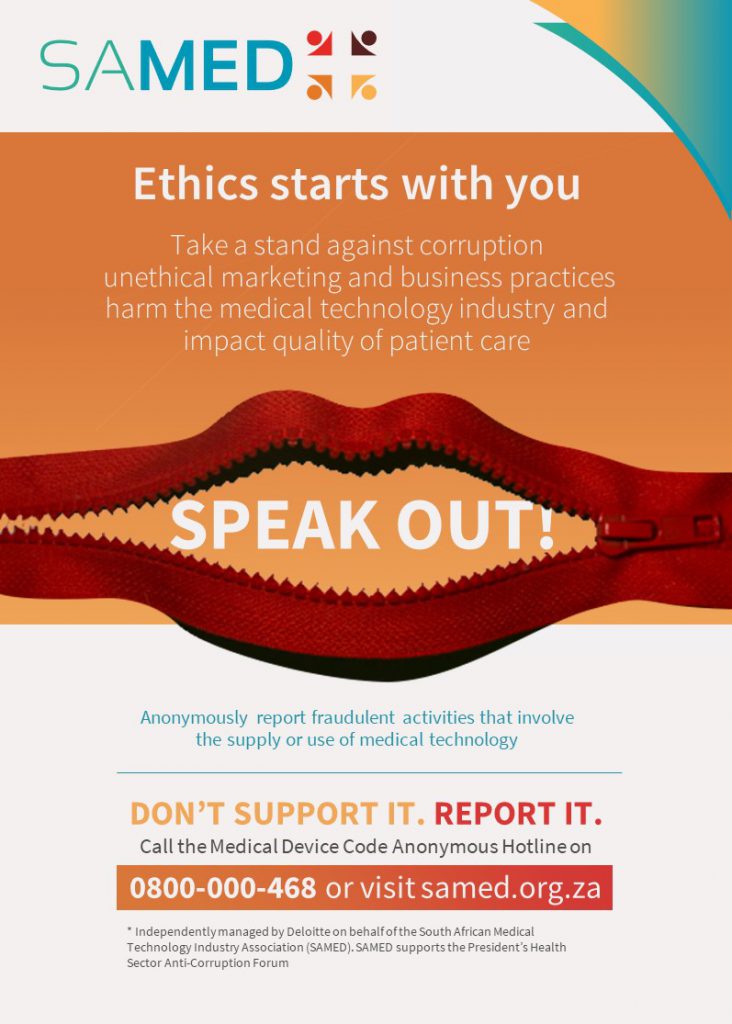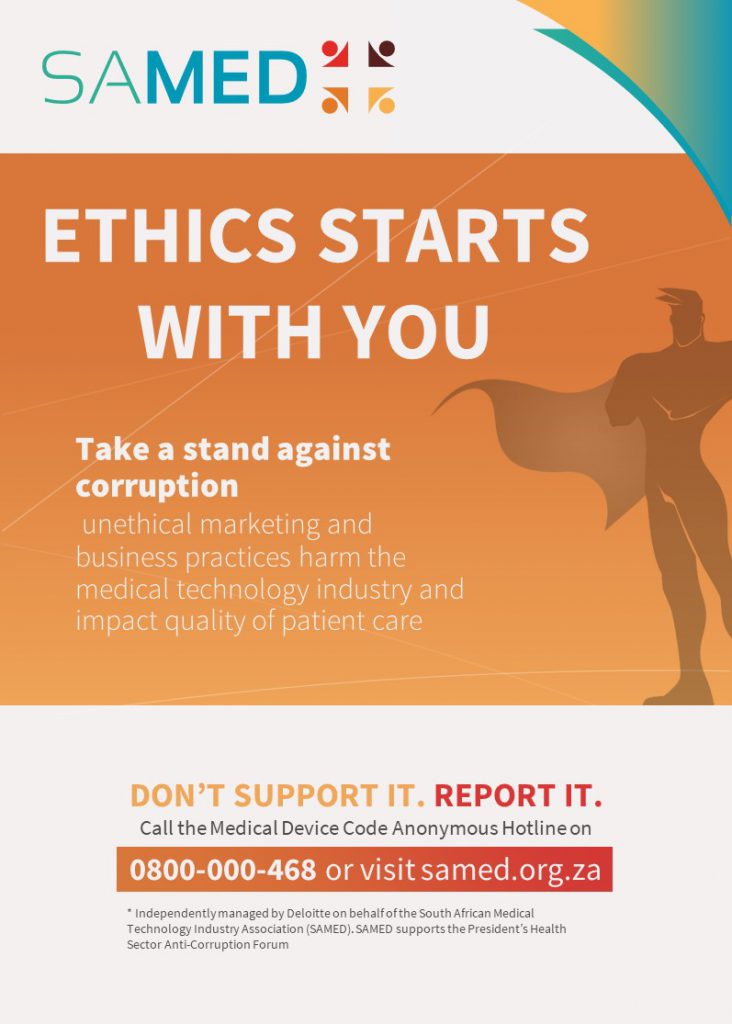 Summaries of complaint cases and outcomes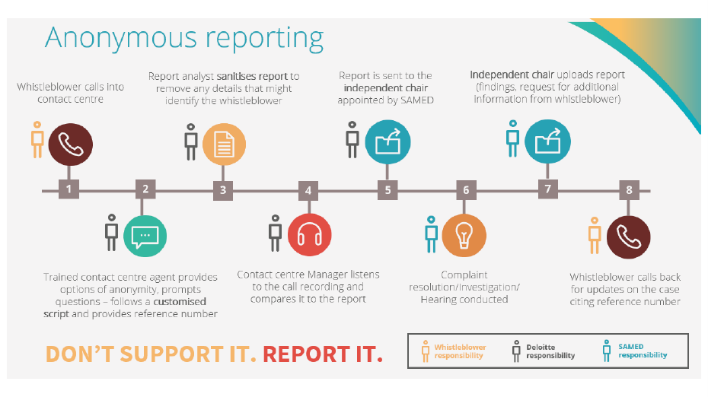 Overview of Medical Device Code Whistleblowing Hotline complaint cases
It is important to share the cases in the interest of transparency and to illustrate the kinds of business practices that may contravene the Code and also those that do not fall under the jurisdiction of the Code but are handed over to other authorities for investigation – including SAPS, HPCSA and SAHPRA.
Matters relating to companies trading without a medical device quality management system and the reuse of single-use devices were referred to the South African Health Products Regulatory Authority (SAHPRA). Investigated and resolved cases relate to: (i) recreational (ie without a professional medical education agenda and programme) lunch for healthcare professionals; (ii) untrained use and incorrect reporting on a competitor's device; (iii) unethical marketing and sales practices by the sale staff of the respondent; and (iv) an adverse event at a hospital.

Active investigations relate to: (i) bribery and corruption allegations of providing "kickbacks" to surgeons for the use of their products through a third-party; and (ii)  comparative advertising.
SAMED is also aware of other anti-competitive and perverse practices that in all likelihood contradict the Code and are probably fraudulent and encourages our members, their customers and any other individual or entity to report them to the whistleblowing hotline.
One such case that has been brought to SAMED's attention relates to demonstration and sampling products. Specifically, it is alleged that companies supply equipment to healthcare practitioners free of charge to be used for demonstration and/or as samples. The HCPs in turn charge the patient or the medical aid for these products while also referring the patient to the supplier for purchasing additional products from that particular company. The practice contravenes HPCSA guidelines for good clinical practice and medical schemes' rules. It is also a breach of relevant Code provisions, namely:
Demonstration and sampling products are not meant for clinical use.
Provision of demonstration products and/or samples must not improperly reward, induce and/or encourage HCPs to purchase, lease, recommend, prescribe, use, supply or procure member companies' products or services.
Code signatories shall in all cases maintain appropriate records in relation to the provision of demonstration products and/or samples to HCPs.
Code advisory opinions provided
As part of on-going efforts to support signatories in abiding by the Code SAMED, on request SAMED provides non-binding Code advisories to signatories. The outcomes of these advisories facilitate greater understanding of the Code and enable members and stakeholders to learn from similar situations. See the following non-binding no-cost opinions and interpretations of the Code.
*This article is accredited with 1 Ethics CPD point, to claim the point for reading this article, complete the required details and questions by clicking here